Ashadeep Day Rehabilitation Centre
"The Day Rehabilitation Centre" caters to Individuals with Intellectual Disability and Associated Disorders and Persons Recovering from Mental Illness.
For the individuals with intellectual disability, focus is given on Activities of Daily Living, Functional academics, prevocational activities, sports and music along with conventional academics. Every student has an individualized intervention plan along with a six monthly goal based on their level of retardation. Specialized inputs like drama, speech, movement and yoga therapies are provided as part of the rehabilitation process. Learning through role plays, one to one and peer training are followed here.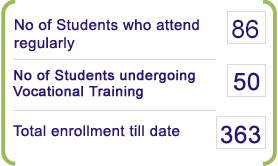 Sport is given special focus here as every student is registered as a special athlete under Special Olympics Bharat. These students are trained in various sports like Bocce, Badminton, Floor Ball, etc and prepared to compete at state, national and international sports forum.
For persons recovering from mental illness re-instilling social skills including interpersonal and communication skills are imparted here. Individual and group counseling are provided on regular intervals to such individuals along with their care givers.
The Vocational unit provides skill development training to the intellectually disabled adults and persons recovering from mental illness which forms a part of therapy as well as a source of facilitating income generation. Here training in block printing, candle making, jute products making , food processing and products made with waste clothes are given.
Recently an intensive job oriented computer data entry training program as a part of vocational therapy has been initiated in collaboration with Amba, a Bangalore based NGO working for empowerment of intellectually disabled adults. 40 students of Ashadeep are undergoing this training programme and 20 students are ready to be inducted as professional data entry operator within couple of months.
At the Day Care Centre, in conformity with the needs of the community, a section on training children with mental retardation and associated disabilities is also operational. Here, the children receive 'special education', living skills, social skills and pre-vocational training. Adults with mental retardation are provided vocational training in eleven disciplines presently in addition to the living & social skills trainings. Recently computer training session for adults with mental retardation has been initiated in collaboration with AMBA, Bangalore with the ultimate goal of providing livelihood avenues for such adults through data entry jobs. Development of such individuals through the medium of sports is one of the key focus at this centre where children and adults under the banner of Special Olympics Bharat are trained in various sports disciplines for competitive sports events for state, national and international platforms.