COMMUNITY BASED MENTAL HEALTH INITIATIVES
The population of India has crossed the billion mark but the state of services for mental health is yet to make strides with equal pace. Given the rate of occurrence of major mental disorders being as high as 1-2% the resultant situation is that there exists a huge gap in supply and demand for mental health interventions. With the objective of creating access to mental health care and treatment for those are socially, economically, and geographically marginalized Ashadeep initiated a Psychiatric OPD in Guwahati in 2006 and undertook outreach mental health camps from 2006-12 in 8 remote regions of Assam including conflict areas such as Chirang, Baksa and Kokrajhar in Bodo Territory areas. The outreach camps consisted of psychiatric treatment for persons with mental illness and training of local NGOs who would continue to secure mental health needs for the community they were serving.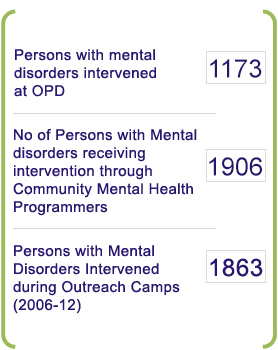 The outreach mental health camps have been shaped as 'Community Mental Health Programmes' (CMHP). These programmes include creating access to mental health interventions and developing sustainable measures for empowering the community on mental health. Currently these programmes are being undertaken in 3 districts of Assam, namely, Darrang, Morigaon, and Kamrup (rural) District. The major aim of this programme is to facilitate systemic developments in the community whereby, mental health is included in health care delivery at primary level and people are more forthcoming with regards to their health seeking behaviour for issues related to mental health. To sustain these efforts partnership and capacity building of local Civil Society Organizations and Government Health Administrations are undertaken

One of the key challenges faced during the 6 years of undertaking outreach mental health camps in rural areas of Assam was ensuring sustainability in provision of mental health services. To ensure sustainability in provision of mental health interventions at the community level, Ashadeep with support from Navajbai Ratan Tata Trust has undertaken pilot projects under the aegis of Community Mental Health Programme in 3 districts of Assam. The Community Mental Health Programme is a comprehensive set of interventions aimed at empowering the community as a whole on mental health. The major objectives of the programme consists of identification of persons with mental illness, their referral to primary health centre, treatment through provision of medicines, follow- up to ensure continuation of medication and facilitation of income generation activities amongst persons recovering from mental illness. These community based intervention are being implemented in Sipajhar block of Darrang District, Mayong block of Morigaon District, and Boko block of Kamrup (rural), Assam. Till 31st December, 2015 around 1652 persons in these rural areas are being intervened through this programme. Thus,to ensure sustenance, the focus is on inclusion of mental health in service delivery within the primary health care system.
OUTDOOR PSYCHIATRIC CLINIC
undertaken once a week within the city. This urban based community mental health intervention benefits not only past residents of Navachetna and Udayan but also caters to socially, economically and geographically marginalized population residing within the city of Guwahati as free consultation on mental health is provided bsy a psychiatrist and other trained staff members of Ashadeep. Till 31st December 2015, 1160 patients have been registered in this OPD.