REHABILITATION OF HOMELESS PERSONS WITH MENTAL ILLNESS
An impinging issue that plagues the already dismal mental health scenario of the country is the issue of homeless persons with mental illness. This extremely marginalized section has had no access to any form of support as the state and centrally sponsored mental health institutions are more often than not bogged down with catering to huge number of clients in an under resourced environment. At Ashadeep's Rehabilitation Homes for Homeless Persons with Mental Illness (Navachetana & Udayan), a person who is often seen as an aberrant edifice of the streets is provided with the opportunity of recreating his/her life which was lost due to the illness. The prime objective of this 'model for intervention' is to provide care, treatment and rehabilitation measures to the homeless women and men with mental illness wandering in the streets. This process culminates to reunion of the person with her/his family and reintegration with the community. A part of their rehabilitation consists of vocational training and skill building which can help them earn a livelihood after their discharge instead of being considered as burden to their families. Follow up is maintained to ensure that they continue with their treatment and also link them with employment opportunities.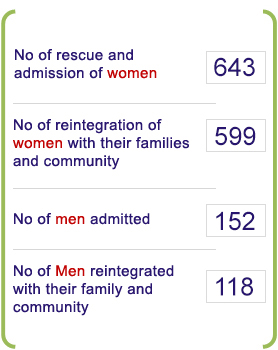 Ashadeep established Navachetana Rehabilitation Homes for Homeless Women with Mental Illness in 2005 with support from Sir Ratan Tata Trust. First of its kind initiative in the Northeastern region, it led to a silent movement in the field of mental health as the Government of Assam collaborated with Ashadeep for establishing a 40 bedded rehabilitation home- 'Udayan' for homeless men with mental illness in 2013. The impact of these initiatives reach different region ns of the country as most of these women and men are reintegrated with their families residing in various states like Andhra Pradesh, Arunachal Pradesh, Tripura, Gujrat, Haryana, Madhya Pradesh, West Bengal, Bihar, Karnataka, and Meghalaya
'Navachetana' Rehabilitation homes for homeless women with mental illness
There is a sizeable population of those who are homeless and live on the streets in our country. A number of such people suffer from mental disorders. Some of them are on the streets because of their mental disorder while some have developed such disorders because of their homelessness. They are perhaps the most vulnerable group amongst the homeless. In addition to various risks that homeless people face – poor living conditions, infections, inaccessibility to basic health services, premature death and so on, the mentally ill, because of their affected condition, are not only shunned but also receive no support or sympathy of any kind. Studies have shown that homeless women with schizophrenia are sexually assaulted at an alarming rate, which exposes them to all kinds of deprivation and infections including the HIV virus.
The rehabilitation services of Ashadeep were initially limited to serving the mentally challenged individuals coming from families. 'Navachetana'- a home for homeless mentally ill women, started functioning from the middle of March 2005 in an attempt to rehabilitate the mentally affected homeless women lying on the streets of Guwahati, with the objective of re-integrating them with their families. Since the inception of Project 'Navachetana' till 31st December, 2015, 582 women have been provided with these services of which 534 have been reintegrated in various parts of India including Arunachal Pradesh, West Bengal, Bihar, Madhya Pradesh, Karnataka, Orissa, Jharkhand, Gujarat, Andhra Pradesh and Karnataka.
The experience of Navachetana has shown that between 65-70% of the rehabilitated women can be reintegrated with their families. 15-20% of them become functional, however, their families cannot be traced, and 10% of them are severely disabled, and hence, locating their families and reintegrating them is very difficult.
Through the initial support of the Sir Ratan Tata Trust, Navachetana started out as one shelter capable of supporting 20 residents. A reasonably positive outcome of this first phase led to the formulation of a three year strategy (with the continued support of the Sir Ratan Tata Trust) where the residential facility of Navachetana has expanded physically and qualitatively into two components – Navachetana Transit Care and Navachetana Rehabilitation Home. The other conscious strategy of working with the marginal section of the homeless mentally ill is to ensure that homelessness amongst the mentally ill is prevented. This has been addressed through a free psychiatric outdoor clinic at Guwahati where follow up of the reintegrated residents are done to ensure adherence to medication and prevent them to go back to the streets of Guwahati…..
Flow diagram of Rehabilitation Process –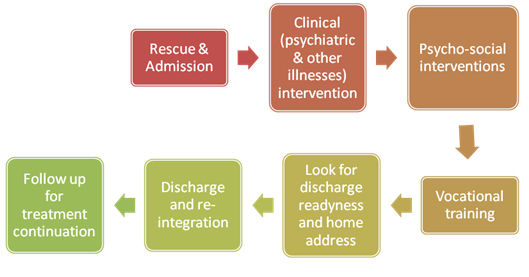 'Udayan' Rehabilitation Home for Homeless Men with Mental Illness
Having worked for the cause of homeless women with mental illness since 2006, Ashadeep has developed certain models of care and rehabilitation for persons with mental illness which can be replicated for other such vulnerable groups in the society. Instead of going on a campaigning mode Ashadeep has been actively involved in advocacy with the government and other policy making agencies through various strategic mental health interventions. As a result of such discourse, Social Welfare Department, Government of Assam in collaboration with Ashadeep has initiated rehabilitation home for homeless men with mental illness in Bamunigaon, Assam since July 2013. Along with provision for admission, care, treatment and reintegration of these men, livelihood generation activities are also a part of this intervention. Psychological and other social rehabilitation services are provided at this centre by a team of qualified personnel including psychiatrists, psychologists, counselors, social workers, and trained health care staff. A unique feature of these homes is the fact that scientific tools and approaches such as Growth Chart, Mental Status Examination, Positive and Negative Symptoms Scale, Indian Disability Examination and Assessment Scale and Global Assessment Functioning are used in a homely environment instead of a hospital like set up.Till 31st December, 2015, 88 men have been rescued and admitted at this home out of which 57 have been reintegrated with their families in various places viz. Assam, West Bengal, Tripura, Maharashtra, Andhra Pradesh, Telengana, Madhya Pradesh, Bihar, Jharkhand and Nepal.
VEGETABLE / HORTICULTURE / LIVESTOCK FARMING AT BAMUNIGAON, BOKO
The Bamunigaon complex which accommodates the Navachetana, Udayan and three independent 'shared homes' has a vacant plot of land of about eight bighas, which provides enough space to undertake farming activities in a professional manner. Growing seasonal vegetables such as Okra, Brinjal, Chillies, Cabbage, Couliflower, Spinach and other leafy vegetables are a regular practice at Udayan. This activity helps in engaging the recovered residents as part of vocational activity. The vegetables thus grown are consumed at the home itself. However, to supplement the vegetable expenses during a whole year, vegetable farming has been taken up in a more systematic and scientific way.
Plants of various fruits such as Guava, Mango, Jack fruit, Banana, Papaya and some varieties of local fruits have been planted along the boundary of the entire campus. Dairy and Goat faming is also a part of this project
As most of the residents are from rural background, most of them take a lot of interest in the farming activities. These activities provide therapeutic values in the rehabilitation process of the residents and ensure early recovery. The residents engaged in these activities are paid an incentive which they keep as a saving for them to take back home.
The support for this initiative from the Hans Foundation will definitely help us to become self sustaining.